Sump Pumps
A sump pump keeps your home dry by automatically pumping and channeling water away from the foundation. If the sump pump fails, your crawl space can flood, causing expensive damage to your home and valuables. It's important to have a reliable sump pump that can help you protect your home in even the wettest weather.
Optional backup pump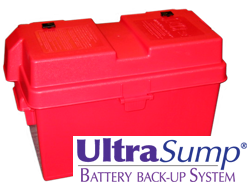 For added protection, your SmartSump™ may be equipped with an UltraSump® Battery Back-up pumping system. The UltraSump® is a second pump that takes over should the primary pump fail or if there is a power outage. The UltraSump® can pump more than 8,000 gallons of water before it needs to be recharged.
The backup's charging system is designed to keep the battery charged and ready for action despite long periods of disuse. An alarm (separate from the WaterWatch® alarm) lets you know when the back-up pump is operating. This allows you to repair or replace the primary pump in a timely manner. If a power outage goes on for several days, homeowners may choose to replace the battery in order to keep their backup pump operating.)
Getting to Know Your Crawl Space | Crawl Space Moisture | Dirt Crawl Space | Wet Crawl Space | Crawl Space Drainage | Sump Pumps | Crawl Space Ventilation | Crawl Space Insulation | Crawl Space Air Sealing | Crawl Space Dehumidifer